Best Appliance Junk Removal Services in Palm Beach, FL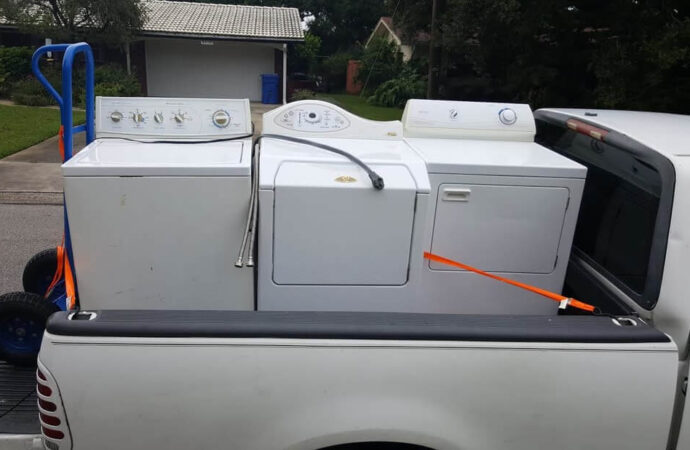 Are old appliances starting to stop working and also taking up on your space around the house? Or maybe, what you need is to get rid of those old machines you've been storing away all this time and are just starting to collect dust so you can bring brand-new ones in. Regardless of what it is, we are experts at appliance junk removal and disposing of them not only involves heavy lifting but also is a challenge due to the question: where am I going to take them and how? Palm Beach Junk Removal and Trash Haulers is here to make this daunting process simple and easy with our appliance junk removal services.
We will get to your house or even commercial property, see the number of appliances you need to get rid of, and handle all the heavy lifting and process of placing them in a truck and dumpster to take them to the right place for disposal or recycling.
We are a company that cares about eco-friendliness, and appliances happen to have a lot of materials and parts that can be reused and taken advantage of for a few more years. We will take them to the perfect facilities or even donate some of them so people in need can take the rest of their life expectancy and utility. We do this to ensure that no items are going to waste and that eco-friendliness remains as a top value and priority in our company.
When contacting us to pick up or dispose of your old items, we will check their condition and determine what needs to be completely thrown out or could be of use for others.
The question at hand is: can we remove ANY type of appliance for you?
Most property owners contact us to get rid of dryers and dishwashers, but we're here to help you with ANY of the appliances being a nuisance and that are collecting dust in your space. Thus, we are able to handle your regular refrigerators, freezers, washing machines, heaters, microwaves, and more.
Keep in mind that our team cannot handle hazardous items, so remember to let us know if any of your items has any leaks or if you are trying to throw away some appliances that weren't exactly safe in the first place. We can do some exceptions for the first case, but the latter one has a lot of buts in our company.
Ready to Remove Your Old or Damaged Appliances?
If you are ready to take the step and forget about those appliances, you can call our team and make an appointment. Palm Beach Junk Removal and Trash Haulers is here to serve you right away and ensure you get all the help and support you need.
Before we get to your place and dispose of all the old appliances, we will visit after you contact us for the first time to see the number of items and amount of junk we need to deal with. We will give you an estimate and you can decide whether you want us to start right away or have us later while you make your decision.
Keep in mind that this is a non-obligatory quote, meaning you don't have to feel pressured to hire us later on, but we do like to visit you before we can give an estimate since this allows us to have a clear idea of the amount of work involved and provide the final cost at once, unless you want some changes.
If you decide to work with this #1 company, rest assured that our team is not only professional and experienced but also insured in appliance removal and junk removal overall. You won't have to worry about covering any expenses related to accidents since we do this to keep them protected and all covered while also thinking about you.
When you schedule a free visit for the estimate or decide to hire our team, we will always call prior to our arrival so you can be ready for our team and take the time to go over the task with us.
What happens if you need our help the same day you contact us? We will do our best to assign a truck and team so they can get to your property and work around all the appliances you will need to remove. Of course, we will provide the estimate in place and get to work if you agree with it so we can start disposing of the appliances and recycling those that can be saved.
Make sure to contact our team and ask all your questions, make an appointment, or let us know if you need a last-minute service.
Here is a list of our services you can get at Palm Beach Junk Removal and Trash Haulers:
---
Palm Beach Junk Removal and Trash Haulers is the top company in West Palm Beach that offers the best residential and commercial junk removal services. Here's our additional services:
---