Best Television Junk Removal Services in Palm Beach, FL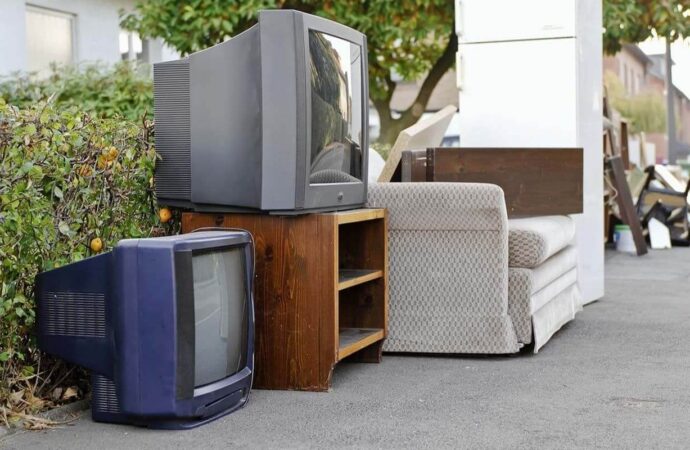 Maybe you have an old television in your living room that, although it works well so far, is starting to make you feel like the sound and quality are not enough, which is fair considering all the 4K and 8K televisions you can get for good prices today. However, you don't want to store this old TV away in the corner of your property since it will end up taking up precious space, and it isn't the point either. At Palm Beach Junk Removal and Trash Haulers, we can help you with television junk removal services that will save you time, money, and effort in the:
Lifting and removing the TV to put it in a new space or store it away while you bring a new one.

Think about where you are going to throw the TV or dispose of it.

Hiring extra support from the local service, which cannot usually help you anyways due to their limitations in picking up this kind of junk and items.

Saving time in finding the best recycling facilities if you understand the importance of working with this instead of just using hauling fields.
Our company will take care of the entire removal and disposal so you don't have to overthink everything and spend more time than you have and can in finding a solution to throwing the TV away.
We want you to know that although some people just leave the TV outside and wait for someone to pick it up, this isn't the best way to dispose of things.
First, local services, as we mentioned, are usually unable to pick up the television due to the type of truck and equipment they have, which will usually destroy the TV when it may still have some use.
Secondly, you don't know who may pick up the television without knowing the actual condition or if it is damaged, leading to some issues or them leaving the item in another place without proper disposal or recycling in mind.
Finally, you want to make sure the item can be used in the best way possible, and we will make sure of it if you decide to rely on our team for the task.
We Are Different & That's Good
Unlike other companies in the area, we want to make sure that all items and junk go to the perfect places, and this isn't exactly related to hauling fields and areas. Instead, we will do the best we can to pick up the television, in this case, and bring it to a recycling facility that can get the most out of the remaining pieces or even refurbish it or repair the parts that aren't working for either donating the item or leaving it for sale in very low-cost places.
Our goal is to make sure the items aren't disposed of without second thoughts, which is pretty much what most people do.
We will contribute to the process by going to your property, removing the television, and loading it on the truck, so you don't even have to worry about the lifting, moving the item, and everything involved with this hassle once you decide to get rid of the item.
Rest assured, our team at Palm Beach Junk Removal and Trash Haulers is more than capable and qualified to deal with the television, and we can even help you with several of them if what you have in your hands is a large removal project due to some construction or maybe you just have a storage full of them and without any proper use or future in mind.
Make sure to contact us to request more information about our service and allow us to visit your property or send us photos of the televisions you need us to deal with. We will usually go with the right truck and equipment, so you don't really need to think too much about us being able to deliver the promised service or not.
From the options with have available for television junk removal, you can either choose to book us so we can go and pick up the television on a specific day, or you can request same-day services so our team can get to either your residential or commercial property and work in removing what is now an eyesore in your space.
For free quotes and support before we deliver the service, you can call or email us, or feel free to fill out the contact form on our website.
Here is a list of our services you can get at Palm Beach Junk Removal and Trash Haulers:
---
Palm Beach Junk Removal and Trash Haulers is the top company in West Palm Beach that offers the best residential and commercial junk removal services. Here's our additional services:
---