Home Renovation Debris Removal Services in Palm Beach, FL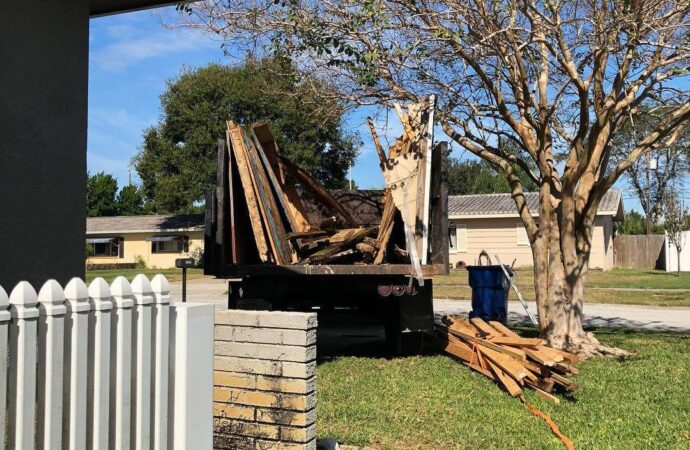 Suppose you are planning a renovation for your property, and you have hired an entire team for the task. In that case, you will want to know something: not all contractors know how to handle debris and junk removal properly, meaning that although they should leave everything clean, there is a possibility they won't do it right. What if you're the contractor in question? Then you need to worry about finding a company with good home renovation debris removal services so you can stop worrying about how you will handle this part of your job.  
It doesn't matter if you're doing demolition, remodeling, or construction, and even when the service we offer at Palm Beach Junk Removal and Trash Haulers is, in this case, focused on home renovation debris, you will need to deal with the debris for any of the previous projects.
The time-consuming and expensive process of disposing of any leftover debris is always a concern. It can be difficult to remove concrete, wood, steel, and tiling from a construction site, and since we know how to do this quickly and at a low price, we want to encourage you to have our team as the company that will handle all your removal needs.
Our team offers a safe, efficient, and environmentally-friendly service for disposing of construction waste. Our hauling experts will make sure that construction debris is removed from your path so you can continue with the project or that you rest assured the disposal will be done properly, including taking some of the items and parts of the junk to the recycling-facilities based on what they are and if there is any material that can be recycled and considered for other uses.
If you want us to work with your home renovation project and remove all the debris, you can always call us or email the team. We also have a contact form waiting for you on our website, so you get the most out of the time and service you're accessing or trying to get from us. 
We will arrive at your location with our insured and professional hauling crew. We call you 15 minutes before we arrive and give you a free estimate based on how much space your debris takes up in the truck or if you're aiming for a recurring service as your renovation project progresses.
We simply take the construction debris and haul it into our junk removal trucks. There are no hidden charges, and we will even handle the heavy lifting, so you don't have to put more effort than necessary.
We can remove most types of construction and demolition debris, so rest assured that regardless of the specific need, we will be there to deliver a top service for your home renovation.
How Do We Help You?
Each one of our members and haulers is licensed and certified to lift any non-toxic item that can be lifted by two persons or more in case you notify us there are some particularly heavy items. We can take away all construction debris left over from your renovation projects.
Now, although we are there for you and will handle the entire job, it is possible to drop off a dumpster to collect the debris yourself or have the dumpster in place so we can pick it up later.
With this in mind, we want you to remember that it doesn't matter if you're renovating your house or clearing out an office after a move; the trash left behind can make it difficult to get rid of, and we will be there to take care of the entire project so you can lie down and relax a bit without worrying about all the dirt and rubbish in your property along with the main debris you're dealing with during the home renovation. 
Palm Beach Junk Removal and Trash Haulers can safely and responsibly dispose of all the debris left over from your renovation project. Concrete, rubble, and shingles are all removed. We also haul away steel, concrete, tiling, drywall, and other metals and items or materials by taking them to the perfect recycling facilities or even donating some of them so others can use them. 
Our junk haulers are available to help you with any kind of cleanup, including a routine cleanup or a one-time cleanup. We offer more than just removing debris from construction sites. We also clean up any remaining dirt and remove nails and screws, so let us know if home renovation debris removal is all you need or if you're trying to access more support.
Here is a list of our services you can get at Palm Beach Junk Removal and Trash Haulers:
---
Palm Beach Junk Removal and Trash Haulers is the top company in West Palm Beach that offers the best residential and commercial junk removal services. Here's our additional services:
---