Best Pool Table Junk Removal Services in Palm Beach, FL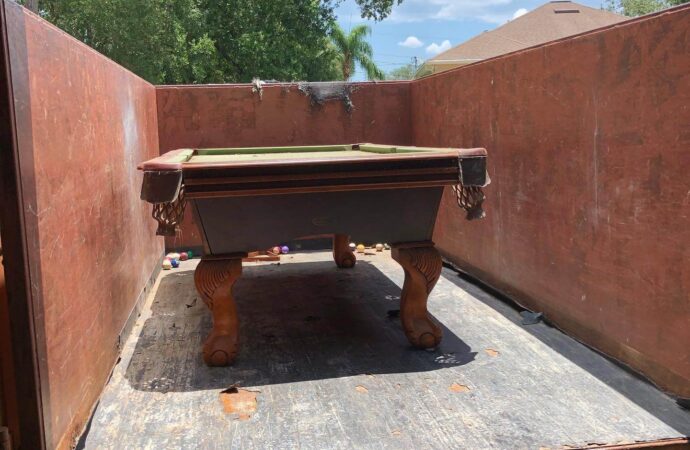 Removing an old pool table can either be quite easy or a lot of work and a hassle by the end of the day. Most pool tables are known for being the usual wood structure where you can play with friends for hours and as much as you want. They are quite cost-effective and last a very long time. But what happens when you don't need it anymore? Or what if you want to get a new one? Pool table junk removal won't be that simple if you consider that local services and most companies won't take the massive item that it is in most cases.
Palm Beach Junk Removal and Trash Haulers is a top company in the city that allows you to get rid of the old pool table and bring a new one without having to worry about how you're going to dispose of it.
Besides being a company that supports your junk removal needs, we focus on recycling and eco-friendliness, which basically means that regardless of the items, trash, junk, and materials you need us to remove, we will be more than happy to provide our service and assistance to make sure they go to the best recycling facilities and if they have no pieces or materials to be saved, we will make sure the disposal is eco-friendly, and there is barely any waste left.
Our company works with all homeowners and business owners in the city and over 30 more locations. Thus, if you need us to handle your pool table removal, and this includes going to the place and disarming the table or uninstalling it, we will be there to help you.
We don't want you to do heavy lifting or the regular difficulty of always having to remove something from your property. Also, we want to help you avoid the usual mistake most property owners make in the USA, not only in the city and state: they decide to move the pool table to an empty space, but they never take the step to finally get rid of it, meaning they are using a space that could be of great benefit for other elements or activities.
We know how precious space is, or maybe you just don't want that eyesore on your property. Whatever the reason for removing this pool table, we will just be there to support the process and make sure you don't struggle with it.
Can Local Services Pick Up Your Junk?
Junk overall has many elements to include. You can be talking about trash, garbage, rubbish, and the regular waste found on every property. If we change the question to "can local services pick up your pool table?" it will make more sense to answer it directly: no.
Local services are limited to the type of junk they can pick up due to the trucks and equipment they have available. However, they may make some exceptions depending on the item, but these don't usually include pool tables since they can be difficult to deal with, and this would mean they will have to destroy it to finally move it to the disposal area.
When you work with companies that truly specialize in junk removal and will work with you to deal with the pool table, you won't have to worry about the hassle nor deal with the pool table and how it will stay on the sidewalk or front yard of your property until someone comes to pick it up, which is quite unlikely.
Our company will make sure you don't have to deal with the eyesore, and instead, you will have us working in the full uninstallation rest assured that regardless of the material your pool table is made of, we will take care of the process of removing it.
Now, removing this and making sure it goes to the perfect disposal place is part of the job. We will focus on finding the best disposal centers we know for this type of junk and focus on taking it there. However, recycling facilities are our priority, and we will always aim for the best way to recycle as many materials and items as possible, so you can rest assured that our team will be taking all the tables to the right places.
Contact us today to learn more about our service at Palm Beach Junk Removal and Trash Haulers, and rest assured we will make this process easy for you and everyone involved.
Here is a list of our services you can get at Palm Beach Junk Removal and Trash Haulers:
---
Palm Beach Junk Removal and Trash Haulers is the top company in West Palm Beach that offers the best residential and commercial junk removal services. Here's our additional services:
---