Best Roof Cleanup Containers in West Palm Beach, FL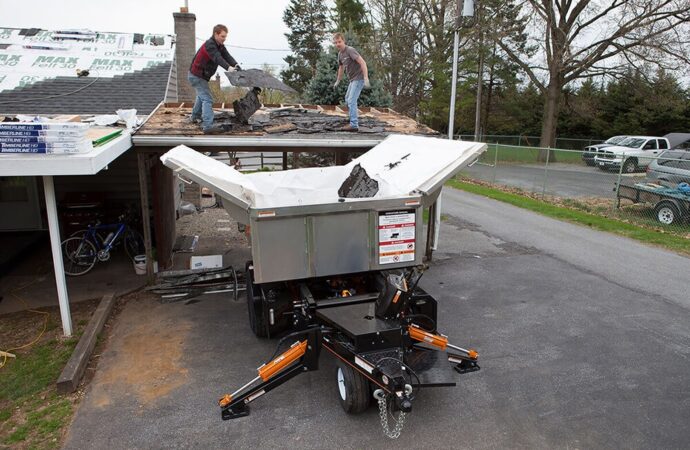 Choosing roof cleanup containers is not a quick decision. You need a brand that provides responsive customer service and affordable options. When you choose the right roof clean-up containers, you will save both money and time.
The first thing to look at is the pricing structure of the company. Some companies charge per ton or variable rate pricing while others charge a flat rate. For companies that have a flexible billing system, you will only get the quotation after the roof cleanup task is over. Flat rate companies are better because you can budget for the roof cleanup upfront. It is good to have an estimate before starting the work.
You cannot know the amount you will pay in advance if you are going per ton. However, you can go for this option if you know the exact weight and volume of trash that you have. If not, flat rate pricing is a more potentially affordable and clearer alternative.
You also need a brand that has knowledgeable representatives. One thing you need to understand is that the process of renting roof cleanup containers is quite confusing. You may have so many questions from the onset and hence customer service is key.  Pay close attention to how the customer support team responds to your quarries.
The team should answer all your questions confidently and quickly. You need to get practical answers to your questions. A reliable team will also follow up with you if it cannot answer your questions in the right way. Avoid a roof cleanup container that doesn't meet the above criteria because it does not prioritize customer service.
You also need to think about the length of the rental period. It can range from a few days to several weeks. If your roof cleaning project large, look for haulers who offer their rental services for the longest period. Shorter rental periods may appear to be cheaper but you will pay more if the project exceeds your expectations. It is good to give yourself an allowance for one or two days when shopping for roof cleanup containers.
The other question to ask yourself is who is responsible for scheduling the pickup. Most companies will require you to make a call and schedule a pickup. A good company that rents roof cleanup containers will give you this information upfront. Inquire about the pickup policy of the company so that you don't attract extra fees. 
Also, confirm whether there are any extra charges for the roof cleanup containers. Most of these extra levies come in if you don't fulfill certain sections of the agreement. Some of them include extension fees, trip fees, overage fees, and contamination fees. A good company will tell you where extra fees apply up front. Asking about these additional fees will make sure that you don't run into unexpected expenses.
The rental company should be clear about what you can out in the roof cleanup containers. There are so many regulations about what gets into dumpsters from one city to another. All cities have put a ban on hazardous materials. In some areas, you will also find a ban on refrigerators, tires, mattresses, and electronics among other items. A reliable dumpster company should give you a list of all the prohibited items. You don't want to find yourself on the wrong side of the law by operating out of ignorance.
The size of the roof cleanup containers depends on the type of your project. The best company like Palm Beach Junk Removal and Trash Haulers offers multiple sizes to meet varying needs. The customer service team will recommend the best size for your cleanup project. For further details, you need to call a reliable dumpster company for further details.
Here is a list of our services you can get at Palm Beach Junk Removal and Trash Haulers:
---
Palm Beach Junk Removal and Trash Haulers is the top company in West Palm Beach that offers the best residential and commercial junk removal services. Here's our additional services:
---