Best Fire Damage Cleanups & Services in Palm Beach, FL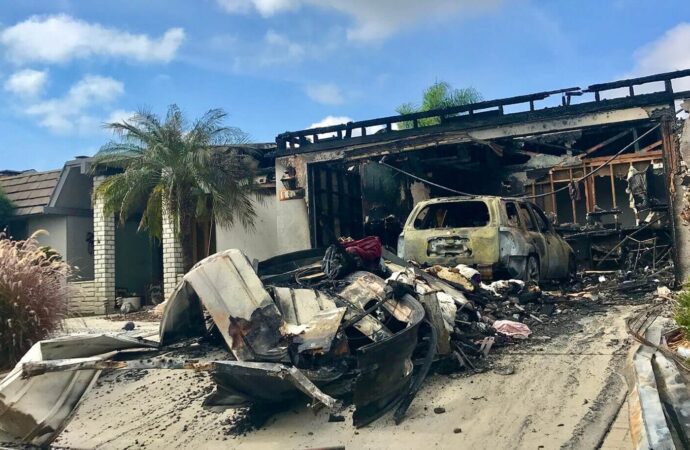 We hope people don't need to deal with fire damage just because this only means their properties have been affected due to special and tragic conditions. However, we know you can't avoid all of them, and for those who are affected, we hope to be a relief in this process by offering our fire damage cleanup services and support on many occasions. Palm Beach Junk Removal and Trash Haulers is a leading company that worries about you and how we can help you with your property after a fire takes place.
We will get there, see and inspect the damage, and determine how much work is required to clean up everything and help you restore the condition and state of your property. Keep in mind that although we are, of course, a junk removal company or we are part of this industry, fire damage cleanups are part of what we do, and we want you to remember that we won't half-assed do this. Instead, expect us to:
Go to your property and support all the needs you have.

We will clean the space by removing the items and junk with our truck and equipment.

We will send enough members so you can work on the restoration of some parts right away.

Our team will get rid of the entire junk and damaged items by taking them to recycled facilities or transition stations as corresponding.

We will clean the space naturally, not only removing all the dirt and junk but also sweeping and wiping the place, so you have all the support needed to deal with the smoke, ashes, and black areas.
We know this is a lot of work, and we don't want you to feel alone when you actually aren't. Therefore, make sure to contact us and allow our team at Palm Beach Junk Removal and Trash Haulers to be the support you need for all this.
Are We Open 24/7?
Absolutely. Our team will answer your call when you are trying to reach out for this emergency service or schedule an appointment first thing in the morning or when you need it, so you know you won't be dealing with the damage on your own.
We will ensure you are all covered and don't struggle to find all the help needed for your property.
Now, regardless of whether it is a house or your commercial business, we want to make sure you can clean it up and be ready to go in no time so you can have your restoration and property done in no time.
We will deal with the removal of all the damaged items, including carpets, wood, upholstery, mattresses, or any other junk you cannot use anymore, yet you cannot dispose of it without second thoughts since some of them contain substances and chemicals.
We want to make sure you know what you're dealing with, and although this is a special circumstance, most local services won't be able to support you in this process of cleaning up.
Finally, cleaning up your property after fire damage or, more like, from it, we will take care of the removal of smoke odors and ensure the residues are nowhere to be seen. This is part of our job, and we take it seriously as we want to make sure your property is like new after all the incidents.
How Much Does Fire Damage Cleanup Cost?
The service depends a lot on the magnitude of the damage, the size of the property, the amount of work you will need us to do, and where it is or the condition of the entire space. There are many variables in getting a quote, so we will need to get all the information and, usually, inspect the property first so we can provide you a free quote that you can take and decide to hire us or not later on.
We will handle all heavy material, load the truck with the junk and debris, work in helping you clean the smoked areas and black ones, and ensure all the items that can still be saved go to the recycling places without issues.
There is a lot we do, and estimating the price would be quite a challenge. Therefore, contact us for your needs and remember that we do have considerations to make sure you are a bit relieved of all the expenses you have after this fire took place.
Here is a list of our services you can get at Palm Beach Junk Removal and Trash Haulers:
---
Palm Beach Junk Removal and Trash Haulers is the top company in West Palm Beach that offers the best residential and commercial junk removal services. Here's our additional services:
---