Best Business Junk Removal Services in Palm Beach, FL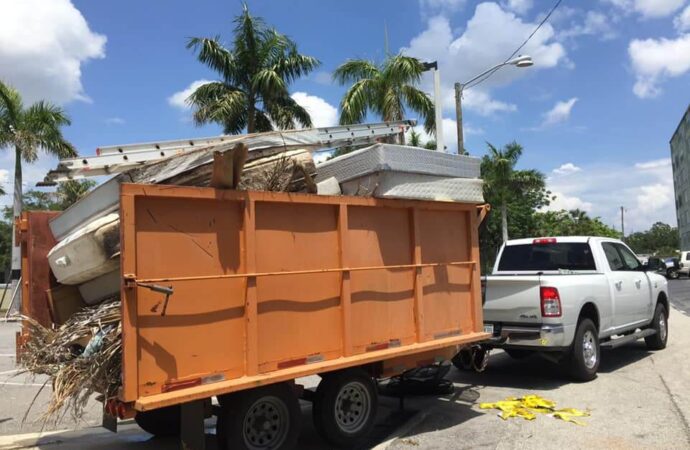 Dealing with all the junk and trash that accumulates in a business is much more difficult compared to most residential properties where you are the only one living or dealing with the regular rubbish and junk. However, businesses need to dispose of the trash while also worrying about other types of junk that most municipal services don't pick up for them. There are many obstacles and difficulties, but if you rely on our team at Palm Beach Junk Removal and Trash Haulers, you shouldn't have difficulties dealing with business junk removal since we will be there to support you in every step.
We are much more than just aware that every business seems to produce junk, and in large quantities at that. Even if you are not a manufacturing company, even a long-term business relationship can lead to an accumulation of junk, and you will usually need to dispose of computers, electronics, and more items that aren't part of the regular rubbish—food waste, for instance. 
It doesn't matter if it's old equipment and office furniture that you don't use anymore or large quantities of junk and debris that need to be disposed of; we can support you and make sure you don't have to do this alone any longer when our team is here to deal with heavy lifting, ensure you can dispose of everything, and rest assured that our team worries about recycling as many items as possible.
You're likely covered if your business requires you to transport things to the local recycling center or landfill on a regular basis since we are always scheduling recurring services or even offering one-time pickups for this depending on what you need. What we want to mention in all this is: we don't usually rely on landfills since they go against our eco-friendly principles and how we want to make sure junk is disposed of correctly instead of left in another space.
Why We Are the Best Option for Business Junk Removal
As we have already mentioned, nearly every business produces junk and debris, which must be removed and disposed of. This is because most businesses don't have the necessary equipment to haul away junk, and there isn't really the main reason to have it since it would still be difficult to manage all the junk as the business or place isn't meant for it.
If you need our business junk removal services, you can rest assured that it doesn't matter what type of company or business you have or if you're trying to access specific services for removal besides the regular junk pickup for a company. We will be there for you and ensure you don't have to struggle with this process and do the heavy lifting as much as it is needed.
If you are uncertain or unsure of what qualifies as junk for your business so you can request our services, you just need to remember that for your regular trash disposal, our services are already available and waiting for you. Office desks, computers, and more items also qualify as junk for this service.
Some waste management companies may arrange for special pickups, but this often comes with additional charges. If this is the case and you only require it once a year, then that may work for you, and we will make sure to either offer the recurring pickups or schedule them based on your needs, so there's no need to worry about this aspect.
Always make sure to contact our team for more information so you don't feel pressured about what we can do for you or not, and if pricing is what you're worried about in all this, this is what you must consider so you can have an idea of how much the service will cost:
Depending on the space you take from our truck, the price lowers or increases.

We need to know what type of junk you want us to dispose of or recycle for you since the truck we use may vary from this.

If the junk, you need us to remove it in specific parts of the business, meaning we will deal with the heavy lifting but mostly the process of picking everything and moving it to the truck for you.
If you have any special requests and needs, those also influence the estimate we can give you until you decide to hire our business junk removal services or not.
Contact us today and learn more about us as your future company for junk removal!
Here is a list of our services you can get at Palm Beach Junk Removal and Trash Haulers:
---
Palm Beach Junk Removal and Trash Haulers is the top company in West Palm Beach that offers the best residential and commercial junk removal services. Here's our additional services:
---