Best Hot Tub Disposal Services in West Palm Beach, FL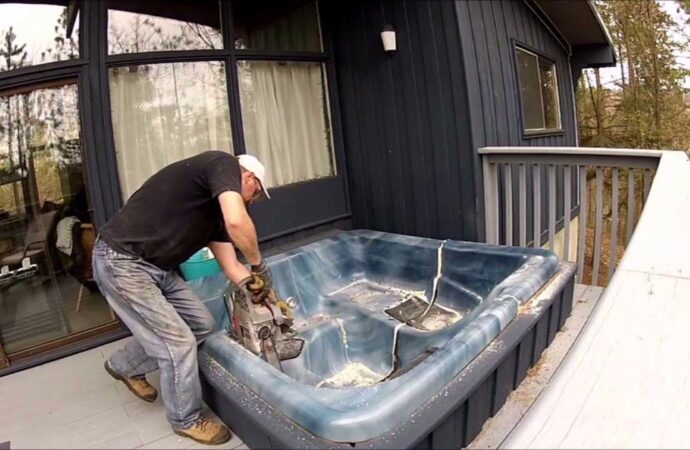 Do you have an old hot tub from which you want to get rid? We're comfortable that you can't do it alone, comfortably. Even if you have others who are willing to help you, the job is still pretty hard and tiring. Save time and choose the trouble-free way by calling us at Palm Beach Junk Removal and Trash Haulers. This is a great way to relax and soothe the muscles after a long working day or a hard workout.
The idea of breaking down your own hot tub or spa and removing it is not relaxing. Not only is the process very labor-intensive, but when you have the hot tub broken down you need to think about where to place the pieces. Should they fit in your car or in your truck? Where do you sort out disposing of the various parts?
Palm Beach Junk Removal and Trash Haulers ‌-‌ Hot tub experts
---
Our company offers a reliable, organic, and environmentally friendly hot tub disposal service so you don't have to think about picking up that old tub or disposing of it. All you need to do is show us where the old hot tub is and our removal pros are going to break it down and take it to our professional truck. Not only that, but we make sure that your old spa ends up in the right place too.
No more worrying, for we have all of this for you! All you have to do is call us to tell us what you need, or visit our office. We will grant you a free estimate and inspection of your area. Isn't that great? We are the top hot tub disposal company but we want to take into account the needs of our customers and provide them with the best service they could ever have. Take the chance and receive experienced and exceptional service from the top company. We are right behind you.
Here is a list of our services you can get at Palm Beach Junk Removal and Trash Haulers:
---
Palm Beach Junk Removal and Trash Haulers is the top company in West Palm Beach that offers the best residential and commercial junk removal services. Here's our additional services:
---