Best Printer Junk Removal Services in Palm Beach, FL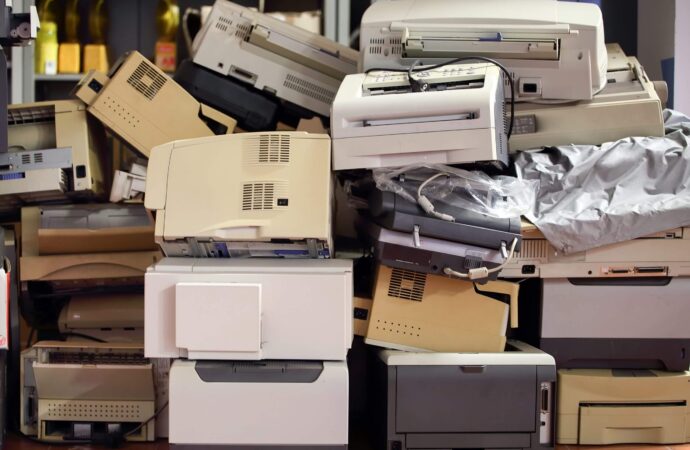 Dealing with technology and all electronic items disposal is quite a hassle nowadays since you can't just get rid of them using the regular methods of leaving them in your garbage bins and waiting for the local services to pick everything up. Printers, for example, contain chemicals and substances that will pollute or harm the environment, so you cannot just let them be. Instead, finding the right recycling and disposal centers is important in all this. Palm Beach Junk Removal and Trash Haulers can help you with printer junk removal, just as with other electronic items and appliances that cannot be easily disposed of.
These are some facts you need to consider when working or trying to dispose of not only printers but general items that can end up polluting the planet while you leave them in regular landfills or don't pay attention to the importance of recycling most of the junk:
About 81% of the items have been thrown away in landfills, incinerators, or both. This can lead to certain toxic substances being released into the atmosphere, and you end up polluting the planet more, even when you're leaving them in some hauling centers or fields.

Most of the waste, like printers, in landfills is toxic and ends up bringing more issues to the environment and the people directly due to how you're not disposing of them properly.

Every year, 20-50 million tons of electronics are destroyed around the world, and this only brings more pollution as they are not being recycled, leading to more expenses in getting new items.
If you really care about getting rid of the printers while also keeping everything eco-friendly, you can contact our team, which is the best choice if you need to dispose of an old printer. Our licensed professionals will handle it safely and securely and ensure you don't have to worry about how the items will be handled. We will make sure to take them to the best recycling facilities and guarantee that what cannot be saved or used again is properly disposed of with minimal contamination to the planet.
How We Help You When Requestion Our Service
Our company has been working in the industry for over 20 years, so you can rest assured we know how to handle printers properly and make sure you don't have to worry about the disposal and future issues that the planet is presenting and suffering from old junk and current people who don't dispose of the printers and electronics properly.
That being said, you can access our services like this:
Book your service with our contact form, or feel free to call and email our team whenever you're ready and within business hours so you can get an immediate answer.

To let you know when we will be arriving, our friendly and uniformed truck crew will call you between 15-30 minutes and 2 hours before your appointment.

We'll inspect the items and give you an upfront, all-inclusive quote when we arrive.

We will remove your items and make sure that we only touch them. Then, we will sweep up the area. Once the job is completed, we'll collect payment. Of course, this isn't done until you accept the estimate and decide to hire our services.
If you have an emergency and don't or can't hire our services immediately, feel free to let us know, as the estimate is free, so don't feel pressured to have our team working right away after contacting us.
We will carefully work around your needs and ensure you are comfortable with our service.
Is It Possible to Dispose of Printers in Commercial Properties?
It doesn't matter if you own a residential or commercial property; we will make sure to get there and dispose of all the printers you have stored or are taking space in your table and other areas.
There is no such limit as to what we can do and the number of printers we can get rid of for you by taking them to the best recycling facilities in the city. Therefore, make sure to contact us and rely on our team for a full service since we will take the printers, load them to the truck, and ensure you don't have to lift a finger in this entire service and process.
Leave it to us and finally be free of all the items.
Here is a list of our services you can get at Palm Beach Junk Removal and Trash Haulers:
---
Palm Beach Junk Removal and Trash Haulers is the top company in West Palm Beach that offers the best residential and commercial junk removal services. Here's our additional services:
---