Best Rubber Junk Removal Services in Palm Beach, FL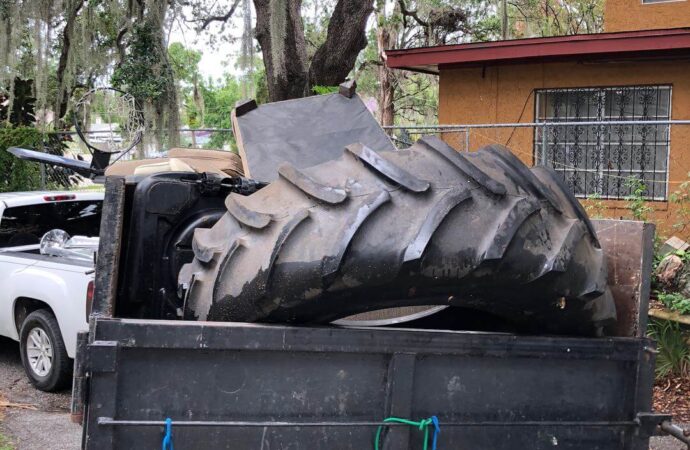 Are there tires or other rubber items in your garage that take up valuable space and must be removed? Do you need to know how to dispose of these materials quickly and efficiently? Or are you trying to get rid of some old items that have been used before, yet you don't need them anymore, even when they still have some use left? Palm Beach Junk Removal and Trash Haulers can help you with this process since we offer rubber junk removal services to the entire city and over 31 locations in Florida, guaranteeing that rubber is disposed of properly and recycled in the right facilities.
We are the solution to all of your problems. We will do our best to solve them, and you will soon forget that you ever had junk or rubber in your property to the point that it almost made you mad to be surrounded by it. This isn't always the case since you can contact us for very small needs and removals, but we know that rubber junk removal is often needed when the items and amount are getting out of control.
Our company aims to make all of Palm Beach and even the entire state of Florida a clutter-free, decluttered place. We do everything in this removal process, including handling the heavy lifting and making sure you know where the rubber is going as part of the service.
Tires, which contain lots of chemicals, are not biodegradable, which is why rubber falls naturally in this category as well. Hence, it cannot be disposed of in a landfill as it can release toxic chemicals into the air, ground, and water. You can see that improper disposal of tires or other rubber items can cause environmental damage, and we want to avoid this at all costs, not only as a responsible junk removal company but also one that worries about eco-friendliness.
Almost all states have adopted very specific guidelines to ensure proper disposal, and we make sure this is respected every time we have clients relying on us for their rubber removal needs.
Tires are generally considered hazardous materials. They are extremely flammable, and if they catch fire, they can cause large amounts of toxic chemicals to be released into the atmosphere, followed by regular issues with the material itself.
There is no need to worry about this whatsoever since our team will carefully dispose of everything and make sure you don't have to worry about more items and problems related to the rubber on your property.
We Are Confident in Our Services & Support
Palm Beach Junk Removal and Trash Haulers is an expert in rubber removal, and you can rest assured that we do it right every time. We have decades of combined experience and take great care in each job. Our goal is to build strong relationships with our customers as a family-owned, traditional business and put their needs first.
We believe that rubber items and tires can be dangerous and hard to dispose of, which we have mentioned a couple of times so far.
Also, we know that you might want to consider all options before finalizing a job. We will provide you with the prices prior to arriving at the job site. Only after we have your approval can we begin our work, and you aren't forced to take the estimate and make the decision right away. Instead, you can contact us later once you feel ready. We do our best to find a date and time that works for you so we can assess the space and the rubber and see how much work is involved in giving you a quote.
If you cannot allow our visit, be as specific as possible when contacting us via phone, email, or using our contact form.
Don't Worry About Our Arrival
We always show up ready to complete any appointment you make with us, and we will notify you at least 15 minutes earlier before we arrive so you can be ready to have our team in the place. 
If our free estimate is successful and you have the time, all the tires and rubber that you need will be removed immediately. That's convenience at its best since we offer both same-day services and booked an appointment for other removal and projects.
Contact us if you have items that are taking up too much space in your home. We can help you declutter your house quickly and remove all the stress associated with junk disposal and recycling, and this also applies to any commercial property where you're dealing with rubber and even more junk.
Here is a list of our services you can get at Palm Beach Junk Removal and Trash Haulers:
---
Palm Beach Junk Removal and Trash Haulers is the top company in West Palm Beach that offers the best residential and commercial junk removal services. Here's our additional services:
---