Best Refrigerator Junk Removal Services in Palm Beach, FL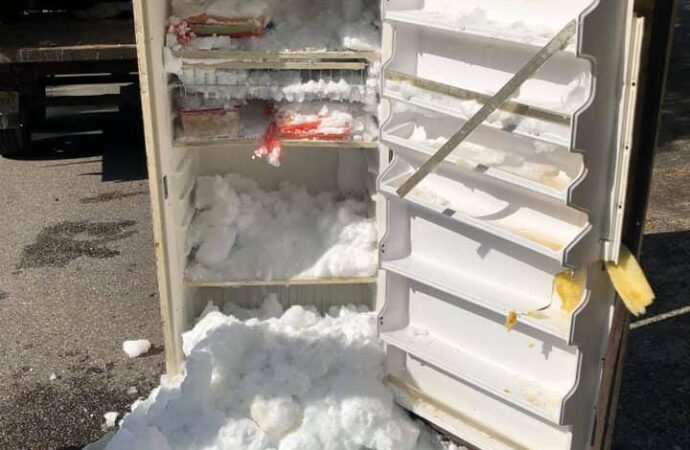 When you have an old refrigerator around, and you're trying to get rid of it, you know this is going to be a difficult task once you notice the amount of work it takes to not only move it to your sidewalk or just keep it aside so you can bring a new one but also the time and effort it takes to move it so it can be disposed of by junk removal services. If you have refrigerator junk removal needs, the problem doesn't end here.
Most local services are unable to pick up this type of junk or items since they don't have the proper truck or dumpster to place the refrigerator, so it is properly disposed of or even recycled in the right facilities and centers.
As a result, you could probably leave the refrigerator in a specific space, your front yard, or contact them so they can come and pick it up along with your regular rubbish. However, they will be unable to even if they would want to help you.
Palm Beach Junk Removal and Trash Haulers is a top company in the city and surrounding areas that supports your refrigerator junk removal needs and will work hard to make sure you not only stop struggling about where to take the refrigerator to and move it to a recycling place but also stop worrying about the heavy lifting involved with this task.
Our team will be there to support you and make sure you get all the assistance needed so you don't have to lift a finger and can lie down and relax while we handle the project and make sure you don't have to struggle with this item and electronic.
Rest assured, we will bring the proper truck, all the members needed depending on your appliance's size, and get it removed in record time so you can finally get rid of that old junk or have space to place your new item.
Allow us to be the best company in the city and over 30 different locations that will solve all your junk removal needs and ensure you don't have to rely on local services that won't usually be of any help.
How to Get Access to Our Service
It is not hard at all to have our team working on your needs since it only takes a call or email, or you can fill out our contact form to get all the service and attention you need.
We have made sure to ask and include all the necessary fields on our contact form so you can be as specific as possible with your needs and how you need this service in particular. Our team will get back to you in no time and make sure you can schedule a visit to:
Assess your place and see the item or, more like, the refrigerator we have to remove for you so we can provide you with an estimate.

Go directly and deal with the removal based on your request.
We will be more than happy to support you in this process and ensure you don't have to lift any type of item, especially if you are unable to or cannot handle all the heavy work.
When you call or email us directly, the call is always answered right away during business hours, and the same happens with all the messages you forward us, but if we are not within business hours, we will get back to you first thing in the morning or depending on when you contacted us.
Rest assured, our team is easy to approach, and our goal is to make you feel comfortable; this includes working in our support and customer service, so whenever our team goes to your place to deliver the service you're looking for, we will make sure they are attentive, polite, and there to bring all the support for refrigerator junk removal and more if you need us to.
Book Us or Request a Same-Day Service
If you have been planning this for a while, we recommend booking our team and making sure we can make it the day you will have to remove this refrigerator. This will ensure we can provide the support needed with the right truck and team members.
If you have a same-day project or removal, you can always contact us, but accommodating a visit can end up being a bit more difficult.
Make sure to ask right away and let us know if you wish for it to be entirely disposed of or if you think the refrigerator is in good condition for donating.
Here is a list of our services you can get at Palm Beach Junk Removal and Trash Haulers:
---
Palm Beach Junk Removal and Trash Haulers is the top company in West Palm Beach that offers the best residential and commercial junk removal services. Here's our additional services:
---