Best Shed Removal Services in Palm Beach, FL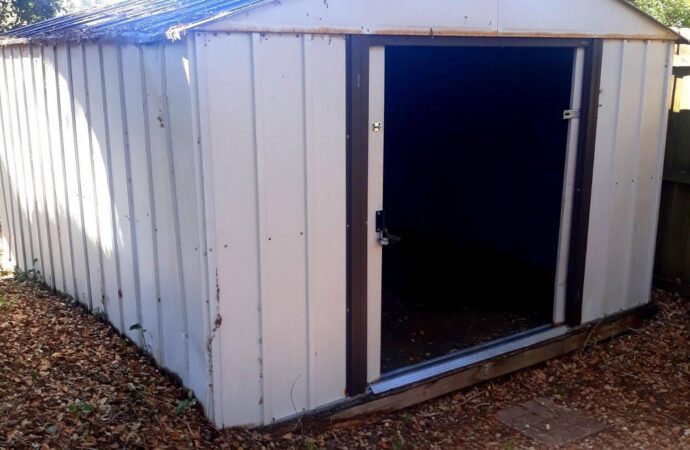 We know how difficult it can be to deal with shed removal since it may be small or large, but the main problem lies in how you can dispose of the items and materials left behind by the demolition itself. In case you're not familiar with this information, municipal services won't pick up the rest or waste of your shed after you have demolished it, so you need to find a junk removal service that can help with this process. Palm Beach Junk Removal and Trash Haulers can help with the entire process and guarantee you get the most out of your time and investment while we take care of the full removal for you.
We want to make shed removal and demolition simple for you; this is why we help you remove all types of tools and every single element and material involved with the shed itself and how you need to move everything from the location to the truck for loading it and disposing of it—finally.
Unlike other companies, we serve over 30 different locations throughout Florida, so besides contacting us for your shed removal needs in Palm Beach only, we have many trucks and members ready to serve you in other areas as needed, so make sure to call and contact us for more information and rest assured we will get there to help you with the entire process of getting rid of the shed and not only some of the waste and remnants of it.
What Sheds Can We Take Down & Remove for You?
The size of sheds varies, and the harder it takes to take them down, the greater the difference and the price of the service since this will depend a lot on how much effort we need to put into it and the truck and equipment needed to deal with the entire project. 
If the shed can be safely removed by two persons with no special equipment, we will be able to take it down in less than a day, and the price will be quite low since it doesn't involve much effort and time. 
No obligation; on-site estimates are provided by our team so you can decide whether to work with us or not. This is especially important for people and clients who have a shed that they know will cost some to have removed, and we are all in for them, so feel free to get the estimate and call us when you're comfortable with the price.
Now, we want you to know that the average shed removal price is between $320 and $1.999. The cost of a shed's removal and tear-down depends on three factors: its location, its condition, and how it was constructed and anchored, so these are the ones we will consider when providing the estimate.
If the shed is located in a difficult area or creates difficulties during the teardown, the price may fluctuate since we will need to spend more time and put more effort into its removal, leading to more time with our team on your property.

If it is in bad shape, we will need to be extra careful, so it doesn't collapse and ruins the rest of your property. Fortunately, our members are insured and licensed, so you don't have to worry about this aspect.

The type of foundation used to hold your shed in place will affect the price of shed removal as well, so it will cost more to remove a shed with cement anchor points than one that is on the ground since it makes sense that one will take more time and effort than the other. 
How to Get in Touch with Us for the Service
If you are clear about all the variations and factors involved in this service, feel free to contact us and request the service or book our truck for help. Of course, if you have questions, you're more than welcome to call or email us so our team can go over them and clear any doubts you may have.
We're eager to help you and make sure this shed isn't a problem anymore, either because it is quite old or because you just want to use the space for something else, including having a new shed built, so you have more space or a newer structure.
Contact Palm Beach Junk Removal and Trash Haulers and rest assured, we will focus on recycling every material possible and providing reliable, complete, and affordable service for your shed removal needs.
Here is a list of our services you can get at Palm Beach Junk Removal and Trash Haulers:
---
Palm Beach Junk Removal and Trash Haulers is the top company in West Palm Beach that offers the best residential and commercial junk removal services. Here's our additional services:
---