Best Freezer Junk Removal Services in Palm Beach, FL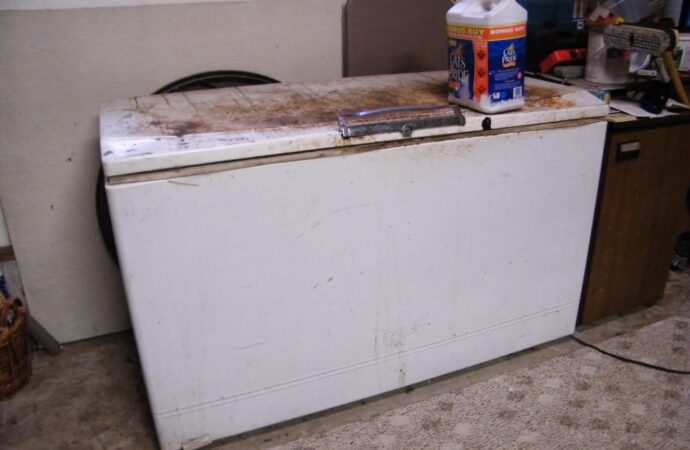 Our team at Palm Beach Junk Removal and Trash Haulers can take care of your old freezer and make sure you have enough space for your new one, or maybe finally deal with the one you've been storing somewhere, but we all know doesn't have any use anymore. We will go to your property and provide all our support for freezer junk removal, so there's no need to leave it outside for your local service when they are unable to pick it up above everything else.
Since local services have very specific equipment and they have to meet a quota about all the properties they must cover, they won't pick up your junk that isn't meant for the type of truck they work with. Also, this would take up too much space and limit them from finishing the daily or regular pickups in the entire area.
This is why all property owners end up finding help for freezer junk removal, especially considering that the item cannot be disposed of only but is also recycled in the right facilities or centers in the city.
We really want to make sure that you're disposing of this item accordingly, and for it, we need to make sure that you get all the attention and support needed from the very beginning. What does this mean?
It basically means we will handle the entire process of removing the item and making sure you get to use the space, all this without you having to lift a finger since we care about how most people need to deal with heavy lifting, and this is part of what we would like to avoid as much as possible and ensure this is not only easy but also a comfortable process and removal.
How Do We Remove Your Freezer?
It doesn't have to be an old freezer, but we bet you wouldn't want to get rid of it otherwise. Our team will work with you once you take the first step and contact us via email, phone, or decide to fill out the contact form on our website so you can let us know as much as possible about the freezer and how you need us to dispose of it.
Our team will answer all your questions and, if possible, schedule a visit so we can see the item and understand the type of truck we will need for it and how many people are required to move and load it into the truck. We will also help you to move some items in the process in case you need to make enough space once we have removed the freezer for you.
The visit is to make sure we can provide you with an estimate of how much the removal will cost since most clients, we know, tend to request the services the same day or due to an emergency, which is completely fine. However, this puts us in a tight spot because we know not everyone is okay with hiring services without knowing how much they will cost.
Therefore, if you can, focus on booking us and scheduling a visit so we can see what we're dealing with, provide the quote, and wait for your decision. In the case that you need our same-day service, we will do our best to give you an average based on the description of your item and how you need our help.
However, the best way will always be booking our team since this will also avoid many conflicts around not having enough units available or being unable to help you right away. Although we focus on having over 50 trucks ready and teams that will be there to support you, prevention and planning are always welcomed.
As for the rest, it doesn't really take too much work to handle with the removal, so rest assured that unless you need to get rid of dozens or thousands of freezers, this will be done and ready to go in no time.
How Do We Dispose of the Freezer?
We don't always dispose of it, that's the thing. We focus on recycling the items and materials as much as possible, so we take them to recycling centers or facilities and even donate some of them after we have inspected the condition and confirmed they can still be used by others.
We are quite eco-friendly and truly focus on this, so you may want to consider working with us at Palm Beach Junk Removal and Trash Haulers even more due to our principles and policies.
Contact us today and have our team's help in this removal task.
Here is a list of our services you can get at Palm Beach Junk Removal and Trash Haulers:
---
Palm Beach Junk Removal and Trash Haulers is the top company in West Palm Beach that offers the best residential and commercial junk removal services. Here's our additional services:
---