Construction Debris Junk Removal Services in Palm Beach, FL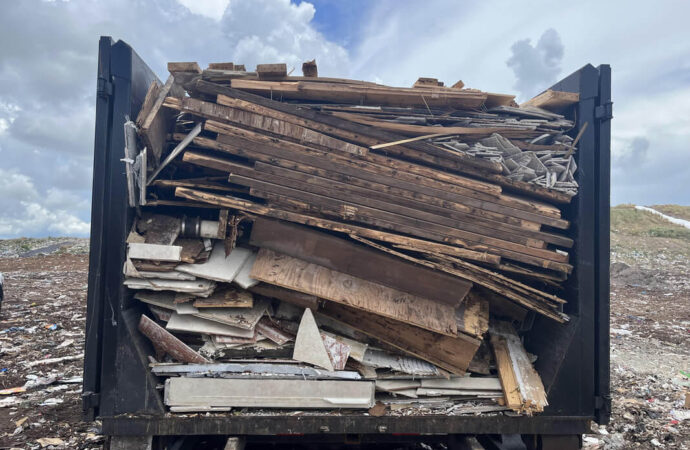 Most people would think that the difficult part about construction is how you need to design the entire space and deal with the hard work of renovating and building. They are not wrong, but while focusing on this, people tend to focus that getting rid of all the waste left behind due to the job done can be a hassle. Palm Beach Junk Removal and Trash Haulers offers you construction debris junk removal, which will guarantee that you can haul all the debris and junk away without moving a finger or dealing with heavy lifting.
We know that you probably have a lot of junk and debris to deal with, which is why this needs to be handled by several people, and you must have in place the proper dumpster that can take all the waste once you have completed the removal.
For large projects or long-term ones that will require our services for several days or even weeks, we are here to rent you either our dumpsters so you can continuously fill them with all the debris and junk while we pick them up on a regular basis or you can have our team working with you in a one-time project or have us visit your property and construction site regularly to help you with the removal.
Palm Beach Junk Removal and Trash Haulers' team understands that not every construction project is the same and that more debris and junk could be dealt with depending on the size or magnitude of your project.
Regardless of how it is or how you require this service, we will not disappoint and ensure we deploy enough team members to help you and get all the removal done in no time.
How Does Our Service Work?
If you already know you will have a construction project starting in no time, or maybe it is close to ending, and now you need to handle the debris removal, you can call or email us in advance to book a truck and team. We will be there on the scheduled day and will make sure to bring all the equipment required.
In most cases, we like to see the space and construction site so we know how much debris and junk is involved, and our team will be able to accommodate your needs in this way.
If you have a one-time removal because you forgot to contact us, didn't plan to deal with it that day, but you have to, or any other circumstances that lead you to have to get the construction debris junk removal done ASAP, our team can be there as well.
We will always do our best to be the support you need and ensure you don't struggle in this process of finding a team, dealing with emergencies, or planning your projects and constructions.
With this in mind, we need you to take the first step, and from there, our service and how we deliver it will follow the following steps:
Contact us via email or phone, or fill out our contact form.

We will need to visit your place and see the construction debris you need to get rid of and how much it is.

We will give you a quote—entirely free—, and you can decide if you want to work with our team or not right away or later on.

If you decide to have us for your junk removal needs, we will plan the process and notify you about our arrival 15 minutes prior or more to the date we agree upon.

Our team will do the heavy lifting, remove all debris, load the truck, and make sure there's no sign of dust and waste by sweeping the area and cleaning.
We know some clients will have projects in mind, and maybe the debris is not even in place yet for us to see it. This is perfectly fine, as knowing the type of project you will perform or go over gives us a good idea about how much debris we will be dealing with.
How Do We Dispose of the Construction Debris?
Unlike popular belief, debris and all the junk involved in construction isn't only concrete, wood, and all the materials falling apart. Asphalt, drywall, glass, plastic, brick, furniture, and more, are also included in this category.
In most cases, several materials can be recycled, and we will make sure of it by splitting the ones that can be disposed of, recycled, or donated, so we can take them to the right facilities and places.
Rest assured, we care about this, and our company is beyond just eco-friendly.
We will consider all the items and debris in place and deliver them to the facilities and transition sites for special disposal.
Contact us today to access our help and service in Palm Beach and surrounding areas!
Here is a list of our services you can get at Palm Beach Junk Removal and Trash Haulers:
---
Palm Beach Junk Removal and Trash Haulers is the top company in West Palm Beach that offers the best residential and commercial junk removal services. Here's our additional services:
---